Where sheeps and donkeys say hello
The silence in the Tramuntana mountains is only interrupted by the jingling of the bells of the sheeps and goats as well as by the "iiaaa" of the donkeys.
The animals living in that region are part of the natural fertilization of all the olive trees growing at the feet of the mountains.
The stony small terraces are harvested manually or by special agricultural tractors. In the oil mill the small green olives are pressed by stony or steelen mills to a well-smelling olive pasta. Staying quietly in stony bassins the oil separates naturally from the water and is filled into the big tanks once it was filtered.
There is only one unfiltered olive oil in November, called Oli Novell, the new oil. It has an intense and very fruity taste, because, as it is unfiltered, all the sediments determine the very special taste.
Here the oil rests for about 3 month, until all the solids have been sedimented. Then the oil will be green-golden and transparent and ready to be filled into the bottles.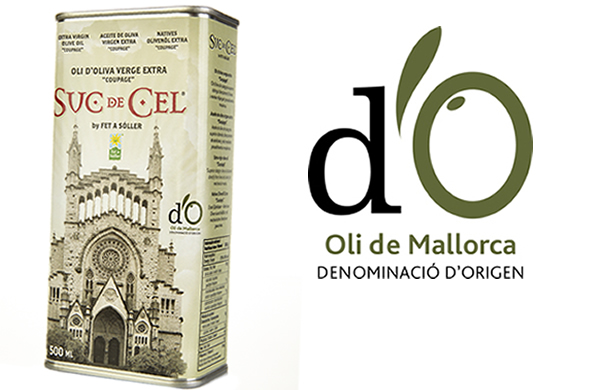 No scandal around "Oli"!
The quality of all the produced olive oils with the certificate of origin D.O. Oli de Mallorca is permanently checked and guaranteed. Virgen extra, cold pressed only from the typical Mallorcan olives Arbequina, Mallorquina and Picual.
As an extra virgin olive oil it has less than 0.8% free acidity and favorable flavor characteristics.
Each bottle of or tin of olive oil D.O. Oli de Mallorca comes along with a unique number and can be traced from your kitchen back to the farmer.
Healthy fats for our bodies.
We need fats to gain energy for all our activities. Food is the resource to provide unsaturated fatty acids which we need to lead a healthy life. Some of the important polyunsaturated fats cannot be produced by the human organism and have to be ingested through our daily food.
Olive oil D.O. Oli de Mallorca is a natural product and supports a nourishing, beneficial alimentation. High contents of polyunsaturated fatty acids help to stabilize a normal level of cholesterol and richness of Vitamin E and polyphenol helping to avoid oxidative stress. Cold pressing and production without heat keeps vitamins and minerals.
And very important: Olive oil from Mallorca simply tastes wonderful. Fruity (if the oil is made from the olive Arbequina), spicy (if the oli is made from the olive Picual) por mild and soft (if the oil is made from the olive mallorquina).
Our tasting packs Oli de Mallorca D.O.