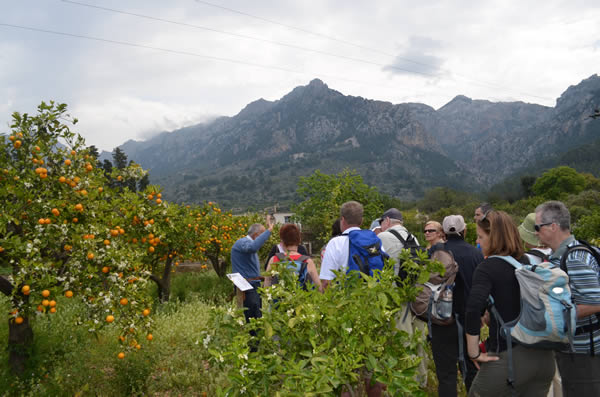 Visitors of the Finca ECO Vinyassa listen in to the stories of Joan, the owner
It is worthwhile to visit the imperial-equipped gardens or the small manufactures in the valley of Sóller. Thus one can get an impression of the work of the farmers or, e. g. , the craft olive oil or jams production.
We organise visits for travel groups in the Organic-Orangenfinca ECO-Vinyassa, in that, still after traditional procedure working oil mill Can Det, or if requested also in the disabled person's workshop Estel Nou.
Eco-Vinyassa is the first Organic-Finca for oranges and citrus fruits in the valley of Sóller. In the valley of the world cultural heritage Tramuntana, at the feet of the imposing Puig mayor citrus fruits grow, only organically and minerally fertilised, together with others fruits and trees typical of Majorca.. The owner explains (in Spanish) the Finca, with chicken run, weather station and compost arrangement, and tells about kinds, care and refining of the citrus fruits. From from Sept/October to July / August the visitors can pick their own orange or lemon. The visit concludes a small Mallorcan snack and a freshly pressed orange juice. Individuals or families can also visit the Finca ontheir own without guidance. Signs in 4 languages. On Mondays,Wednesdays and Fridays from 10.00 to 13.00 o'clock, located between Sóller and Fornalutx, behind the co-operative San Bartomeu on the right.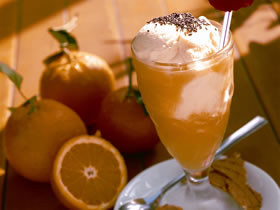 We start with a "Copa Orange Sóller"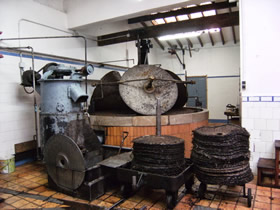 As well as earlier: Oil mill Can Det
In the oil mill Can Det it is still pressed after traditional procedure Olive oil. 2 big granite stones press from the farmers by tractor delivered olives to pure oil. The olive mush is filtered by straw mats and then the heavier ingredients retreat in several small washbasins, until the pure, coldly pressed olive oil runs in the big tank. (Olive harvest approx Nov. - Jan)
The visit can are rounded with a rustic snack, a Mallorca snack Pa'mb Oli, bread with olive oil and tomatoes.
For travel groups of handicapped people we also make a guidance by the jam production Estel Nou. Here our delightful fruit jams are cooked by hand. All jobs are furnished for disabled persons.
The visits can be freely combined, also with a sundae of our ice manufacture Sa Fabrica de Gelats, famous for orange sorbet, with mint or crunchy chocolate little pieces, or if it should be more substantial a little, with a Tasting of typical products of Mallorca. Here come up in olive oil, also piquant fortified with orange aroma or lemon aroma, Basam orange vinegar, orange liqueur, Mallorcan sausage, bitter or sweet marmalade or syrup. . . . We put together with you the pleasure trip fitting for your group.

You are interested? Get in touch with us. We immediately contact.