Session expired
Your session has been reset for security reasons due to inactivity.
Mallorcan gastronomy is very rich and varied thanks to the large number of cultures and civilisations that have passed through the island over the centuries and have left their mark. The fresh produce from the vegetable garden, the meat of the local pig and the fish and prawns from the Mediterranean are the basis of the culinary richness that Mallorca offers. The island's typical dishes are found all over the island, and although they may have some variations depending on the region where they are cooked.
Thus, we find typical dishes or products such as:
The "sopes mallorquines" or Mallorcan soups: don't be fooled by its name, it's a dry dish made with vegetable stock, spring onions, garlic, tomatoes, spinach, cauliflower, peas, artichoke, cabbage and brown peasant bread (which absorbs all the stock).
The "frit mallorquí" is a fried dish made with meat (usually pork or lamb), potatoes, onion, tomato and red pepper.
The Sobrasada is a raw cured sausage made from pork meat with salt, black pepper and paprika. It can be eaten on its own, with crackers, spread on bread or added to a recipe.
The ramallet tomatoes are a key autochthonous variety in Mallorcan cuisine. They are small in size, with thin skin and a lot of pulp. It is customary to hang them with a string to keep them for a longer period of time.
Oranges and lemons; there is little more to add. They have been the basis of Mallorca's gastronomic culture since time immemorial.
The Sóller shrimp is the gastronomic emblem of this corner of the Serra de Tramuntana. In fact, as you reach the port of Sóller, you will find a beautiful and original sculpture of a prawn, which warns visitors of one of the delicacies to be enjoyed on the terraces of the restaurants facing the sea. This shrimp is also known as red shrimp, and it is said that the Romans had already had the pleasure of tasting it. It is a luxury to eat prawns with a sea view, watching the tram pass by, with the swaying of the moored boats, visitors and locals strolling or lying on the beach enjoying a sunny day and the freshness of the sea breeze.
The "herbes" is a very typical digestive liqueur drunk usually after meals. It can be drunk on its own or with ice, according to the consumer's taste. The base of the liqueur is aniseed, to which up to 30 different types of aromatic herbs from Mallorca are added, depending on who makes it. There are three variants of this liqueur, les "herbes seques" or dry ones, les "herbes mesclades" or mixed ones and les "herbes dolces" ore the sweet ones. They are usually made with fennel, orange tree leaves and orange blossom, orange peel, lemon peel, lemon tree leaves, camomile, eucalyptus, lemon balm, peppermint, rosemary... The origin of this drink dates back to the 16th century, and it was made for medicinal purposes.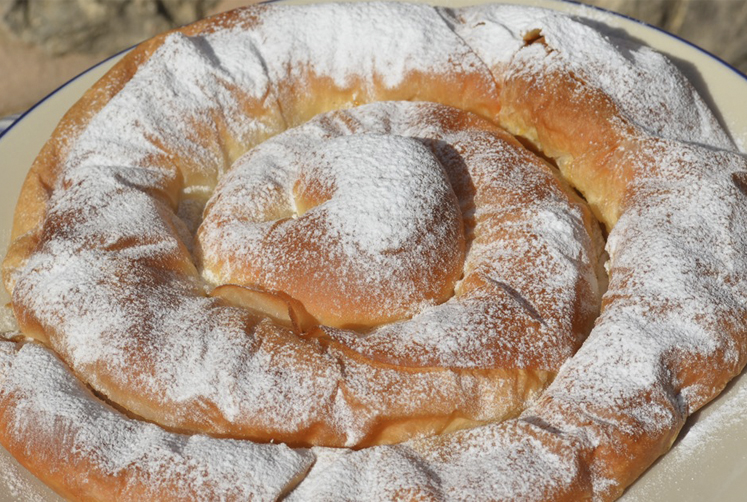 The famous ensaimada; a very traditional pastry product based on a sweetened dough, fermented and baked with saïm (lard). You can find the typical ensaimada, but there are also filled ensaimadas: with pumpkin jam filling known as "cabell d'àngel", with fruit cream, with apricots and sobrasada, with chocolate... there is a wide variety of ensaimadas for all tastes!
Trampó: salad made with onion, green pepper and tomato, all cut into very small squares and dressed with oil and salt. More seasonal vegetables can be added if desired, but the base are the ingredients mentioned above. It is usually eaten in hot weather as it is very fresh and light. There is also a variant of this recipe; the Coca de Trampó is a savoury coca based on a homemade dough made with water, flour, oil and salt, to which Trampó is added and baked in the oven.
Tumbet has its origins in the idea of making use of surplus seasonal vegetables such as aubergines, potatoes, red peppers and tomatoes. All these vegetables are fried and layered (like a vegetable cake) and topped with tomato sauce. If you want to add a fried egg on top… it's a tasteful experience!
Rubiols, of medieval origin, are pasties made of fine flour dough, oil, lard and egg, folded in a semicircular shape and with a sweet filling. They are usually filled with ricotta, cabell d'àngel (pumpkin jam) or jam. Crespells are biscuits in various shapes made from the rubiols dough. Traditionally, these recipes were prepared as a family, and the children could make the crespells with the leftover rubiols dough, so that everyone helped in the kitchen. Although the origin of these recipes is believed to be Safardí, lard was added with the arrival of Christianity.
Cocarrois are another type of empanadas, this time in the shape of a moon filled with cauliflower, chard, sultanas and pine nuts.
Olive oil, known as "liquid gold" and olives, the pillars of Mallorcan gastronomy. The characteristics of the soil, the island's climate, the age of the olive trees, the irregular rainfall, the mountainous terrain... all of this determines a production of olives that is low in quantity but enormously good in quality. Olive oil production and trade dates back to pre-Roman times and was a key pillar of the Mallorcan economy between the 16th and 19th centuries, since on the one hand it formed part of the basic diet of the people, and on the other hand it was a highly prized product in the rest of the world. It was therefore exported especially from the Port of Sóller. Olive oil was the currency used to pay for the ingredients that were scarce on the island. In addition, Mallorca has indigenous olive varieties with unique characteristics that differentiate them from other olives: mallorquina, empeltre, arbequina and picual varieties. Olives are referred to in many traditional songs and proverbs, which shows how important they were to the Mallorcan people.
The famous Pa amb oli, made with Mallorcan brown bread, tomatoes, olive oil and salt. It is very simple to prepare, but it is surprising how delicious it can be with quality ingredients. It can be accompanied with olives or capers, as well as cold meats such as cheese, ham... Curiously, this recipe was first documented in the 18th century by the friar Jaume Josep Bernat Martí i Oliver.
L'Arròs Brut or "dirty" rice is a spicy broth rice dish with garden produce and game meat.
Les panades are typical of Easter, although they can be found at any time of the year. They are pasties made of flour dough and lard stuffed with meat and/or sobrassada sausage and peas.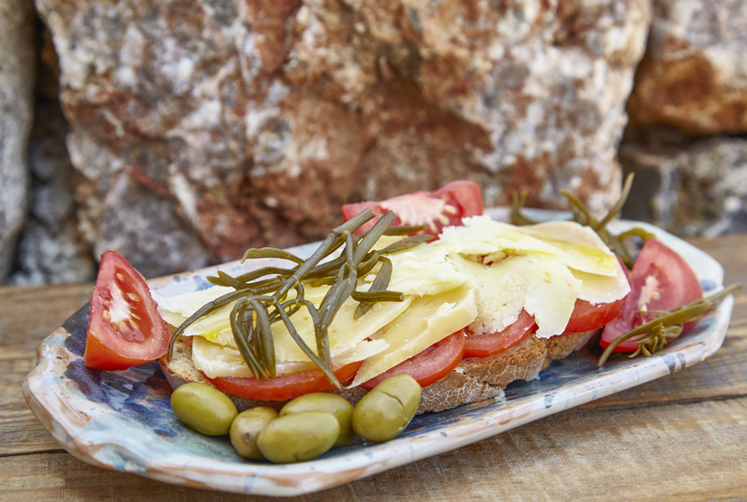 In short, Mallorca is an island with a great culinary richness and variety, perfect for all kinds of palates. Whether you are visiting or living on the island, be sure to try all the typical dishes and soak up the splendid Mediterranean flavour they have to offer.
We all know that eating is one of life's great pleasures, so what better way to enjoy tasty food with good quality ingredients. And if you don't have the chance to come and enjoy traditional recipes, you can always order from our online shop and enjoy traditional delicacies without leaving your home.
Healthy living & Mediterranean fresh food from Mallorca!