Session expired
Your session has been reset for security reasons due to inactivity.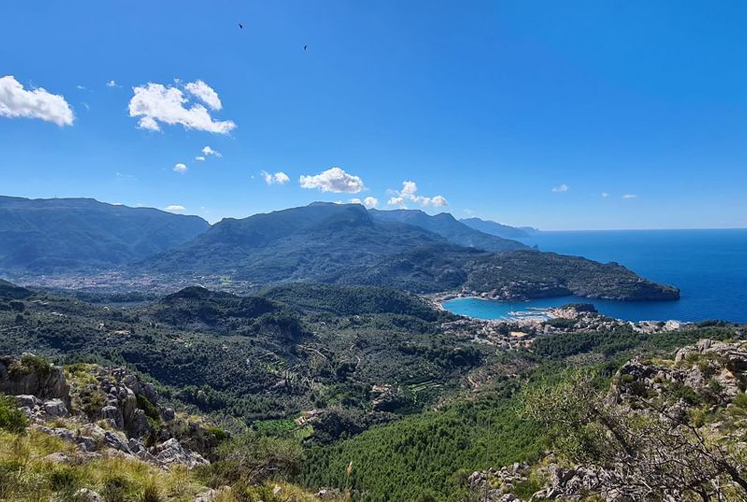 Sóller is a beautiful village with a unique beauty. Surrounded by sea and mountains, it is a small paradise for nature lovers, cyclists and hikers. Moreover, thanks to its geographical location in the heart of the Tramuntana mountains, Sóller is a strategic point for hikers. There are many trails that cross the village or pass through the surrounding area, so it is easy to find excursions for all levels and preferences.

The best known route is the Dry Stone Route GR221 which crosses the entire Serra de Tramuntana mountain from Andratx to Pollença. This beautiful and long excursion allows you to discover breathtaking landscapes, so we encourage you to venture and walk all or part of it. The stage between Deià and Sóller is known as the "painters' path" as it is a wonderful path that has inspired many artists and photographers, it is a nice path to hike if you are not convinced to do the whole GR.
Another interesting route is the walk from Sóller to the neighbouring villages of Biniaraix, Fornalutx, Binibassí and back to Sóller. On the way to Binibassí, we recommend stopping at "Sa Capelleta" to admire this small modernist chapel surrounded by nature. If you think that Sóller is a magical place, the other villages will not disappoint you.

In Biniaraix starts another of the most famous excursions of the GR221: "es Barranc" of Biniaraix. Let yourself be seduced by this ancient and impressive stone path that offers spectacular views while you are surrounded by the local flora and fauna.
You can also hike through olive fields to Bàlitx and stop at the "Mirador de ses barques" to see the port in all its splendour, walk along the "cinc ponts" path where the hundred-year-old train passes, go up to "Ses tres creus" to discover another point of view of Sóller and the Port, visit the "Torre Picada" and "ses puntes" in the Port, hike the path of "Sa Figuera" or walk around Muleta and admire the views of the sea and the Port from the lighthouse.
In conclusion, if you are passionate about hiking, Sóller is the ideal place for you. You will be able to walk along many routes and paths that will take you to indescribable places.